Stuff-a-Bag Event
✰✰✰ MARK YOUR CALENDARS ✰✰✰
Sadie's Boutique is having it's FIRST EVER Stuff-a-Bag Event...
IN-STORE ONLY! 
The event will be
April 30th from 4-6 P.M.
at our
Muscle Shoals AND Florence locations!
**NOTE: both locations will close at 2 P.M. on the 30th to set-up for the event!
BAGS ARE ON PRE-SALE NOW! This guarantees you a spot! *ONE PER CUSTOMER! 
✰NEED TO KNOW INFO✰
→You will be given a reusable bag to purchase for $10
(ONLY ONE BAG PER CUSTOMER)
→Bag will be reusable for our NEXT stuff-a-bag event in September, so you save $10 already!
→All items you can fit in your bag will be 50% off! Any additional items that cannot fit in your bag will be 30% off!
→All clothes, shoes, and jewelry (and even SALE/CLEARANCE items) will be included in the sale
EXCEPT
our new Spring arrivals.
→Only two accessory items per bag
→Shoes can be taken out of the box
→No strollers or large purses
*Due to the amount of people we are expecting please understand only a certain # of people will be allowed in the store at one time for everyone's safety.

This will be the $10 bag for the event!
Current Brick and Mortar Location
Downtown Hartselle, Al
Our newest adventure takes us to Beautiful Downtown Hartselle! This lovely community is everything we dreamed for our store to be a part of. The sights, the food, the shopping is everything here!
Please come visit us at: 206 Main Street W Hartselle, Alabama 35640
Phone number: 256-754-5009
GRAND OPENING: October 3, 2023 (Sadie's birthday ❤️)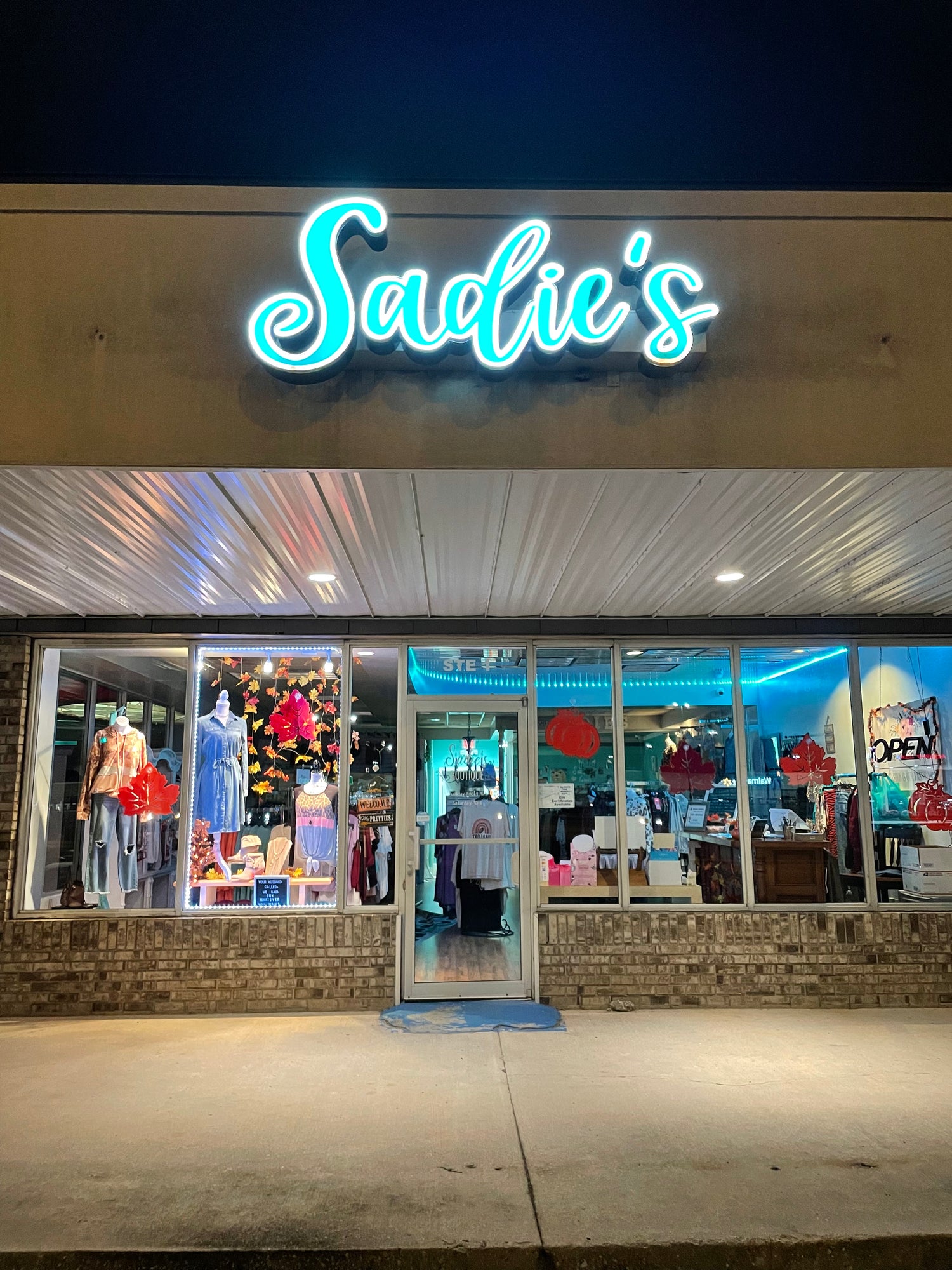 Location
Muscle Shoals, Alabama- NOW CLOSED
Our Flagship store opened August 8, 2020.
We are located at:
320 Avalon Ave, across from Walmart, in the T-Mobile Plaza.
Give us a call! 256-248-4955
Email us! Shopsadiesboutique@yahoo.com
Let's get social! Facebook, Instagram, and Tiktok! @sadiesboutique
Hashtag: discoversadies