About Us♡
We are a family owned and operated ladies boutique based in Muscle Shoals, Alabama. We decided to start Sadie's Boutique in the midst of the COVID-19 outbreak, after I lost my job of 15 years due to company shutdowns. We all pulled together and built our business from the ground up!
My name is Brandy. My mom, Rhonda, and I are the faces of our brand and run the day-to-day business. My dad, Jeff, and husband, Jason, do all the heavy lifting and pitch in with maintenance and anything else we may need. My brother, Kevin, is our IT guy.
Who is Sadie? 
Sadie was a little dog that came into our lives unexpectedly and stole our hearts! Her four short years with us were a blessing and we miss her everyday.
We have a fur-baby section dedicated to her called 'Sadie's Corner.' We carry fur-mama attire & jewelry, treats, doggy apparel, and one of a kind, handmade (by Dad!), customizable bandanas! 
Current Brick and Mortar Location
Downtown Hartselle, Al
Our newest adventure takes us to Beautiful Downtown Hartselle! This lovely community is everything we dreamed for our store to be a part of. The sights, the food, the shopping is everything here!
Please come visit us at: 206 Main Street W Hartselle, Alabama 35640
Phone number: 256-754-5009
GRAND OPENING: October 3, 2023 (Sadie's birthday ❤️)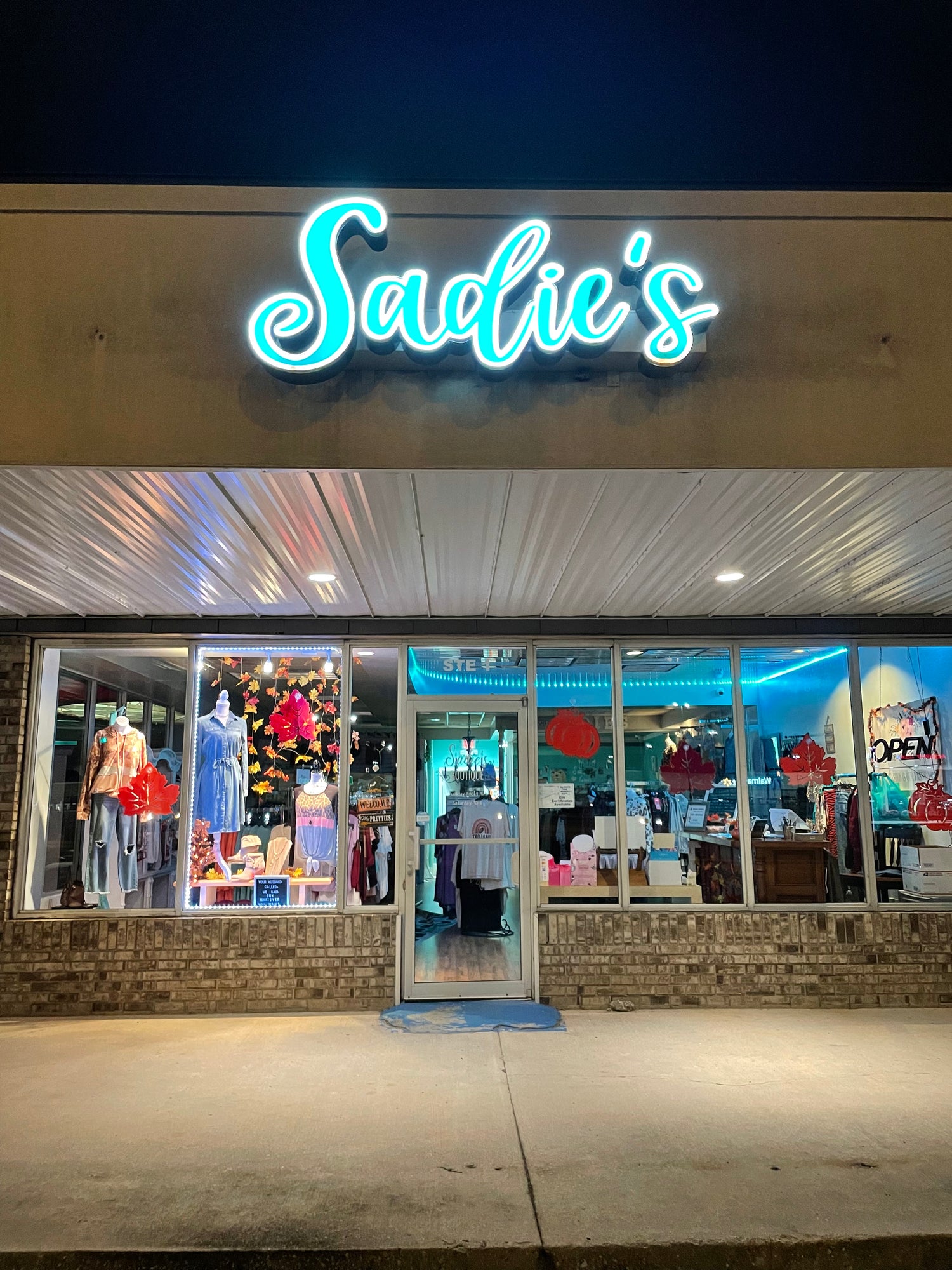 Location
Muscle Shoals, Alabama- NOW CLOSED
Our Flagship store opened August 8, 2020.
We are located at:
320 Avalon Ave, across from Walmart, in the T-Mobile Plaza.
Give us a call! 256-248-4955
Email us! Shopsadiesboutique@yahoo.com
Let's get social! Facebook, Instagram, and Tiktok! @sadiesboutique
Hashtag: discoversadies